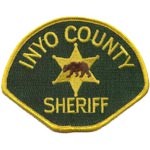 FOR IMMEDIATE RELEASE 
Citizen RIMS 
The Inyo County Sheriff's Office, in cooperation with Sun Ridge Systems, is excited to release a new web-based interface called Citizen RIMS, which enables the public to view local crime data. Beginning February 13, 2014, the public will be able to engage in the following features:
• Incident mapping. The public will be able to view historical calls for service based upon a selected date span. The incident mapping feature is not real-time data; however, it is automatically updated throughout the day.
• Arrest log. An arrest log will be available to the public –this is historic data retained for 7 days.
• Inmate list. The listed information shows current in-custody inmates, as well as the most recent bookings at the Inyo County Jail. Information that can be viewed includes bail amount, offenses, and booking photos.
• Crime charts. This function displays crime data in chart form, with year to year comparisons (data not yet available for comparisons).
• Stolen vehicles. List of current, and reported, Inyo County stolen vehicles.
• Most wanted. List of current persons of interest that are wanted for questioning or apprehension in connection with a crime.
• Missing persons. List of current, and reported, Inyo County missing persons.
• Crime log (with juvenile and sensitive information omitted).
• Alerts. The public can sign up to receive email alerts regarding calls for service, and crimes.
"Citizen RIMS has the benefit of not only aiding the public and media in acquiring Inyo County crime
data, but also in reducing the amount of personnel time involved in requests for information," said Sheriff Lutze. "Now through Citizen RIMS, local crime data is just a click away."
Inyo County Citizen RIMS can be located at the Sheriff's webpage, http://www.inyocounty.us/so/.