What started out as a friendly disagreement has escalated into a kind of stand-off between DWP and boat enthusiasts, who want to see lots more use of Klondike Lake north of Big Pine.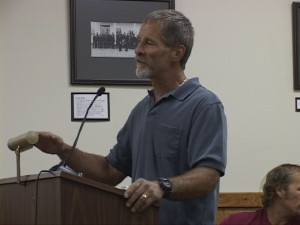 The lake, considered a mitigation measure for DWP groundwater pumping, has meant year-round water recreation for those who want it. The threat of quagga mussel invasion led DWP to close the lake only to re-open it for three days per week with a gatekeeper who permits entrance between 8am and 10am.
That concession seemed largely due to the Save Klondike Committee members who collected more than 2,000 signatures in support of the lake and lobbied hard to keep it open.
Russ Markman, chief spokesman for the group, said relations with DWP have deteriorated. Markman said DWP officials turned hostile as he continued to push for ideas for the lake, and even refused to inspect his boat.
Markman asked us to go with him to DWP headquarters where he asked for a boat inspection. DWP's Mike Daugherty insisted that DWP had not refused to inspect Markman's boat. He said officials wanted Markman to come and talk to them first.
Markman held his ground. "I called this morning, and they told me they would not inspect my boat unless I came down and talked to Clarence Martin and Brian Tillemans." Markman said he told them the way he was treated the last few times, he was not anxious to come down.
"I was treated fairly hostiley, and I just didn't want to get verbally beat on again. So, I told them I really had nothing to say. I just wanted to come down and get my boat inspected, civilly, and they told me if I didn't come down and talk to them they would not inspect my boat."
Markman called some friends and the media to join him at DWP. The boat inspection was done. Markman was pleased. "It got done. It was done in a super-civil fashion. I even got to talk to somebody to say a few things without getting yelled at. So, I appreciate that."
The push to maintain access to Klondike continues. Markman and others feel DWP could afford to keep the lake more open than they did this summer. Meanwhile, the Inyo Water Commission will consider the Klondike issue at their meeting Wednesday, September 9th at Big Pine Town Hall. The Commissioners may make a recommendation to the Supervisors. Markman hopes to go before the Board October 6th. Meanwhile, Klondike Lake will close after Labor Day.