The man accused of burning down the Schulman Grove Visitor Center was scheduled for a preliminary hearing last week, but the hearing was continued to a new date.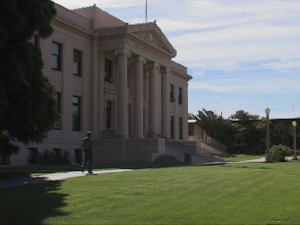 John Thomas Christiana faces felony arson charges. The Court did allow Mr. Christiana to represent himself in this case. He had done the same thing on a vandalism charge in Mono County. He lost.
Christiana's preliminary hearing has been re-scheduled to October 7 in the morning at Department one courtroom in Independence.
It was two years ago this month that the Schulman Grove Visitor Center burned down in the ancient Bristlecone Pine forest above Big Pine. Community support was immediate and funded secured for a new center. The Forest Service website says that planning for the new center has been underway for about a year and that construction and interpretive exhibit contracts will soon be awarded.