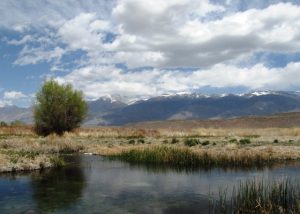 Hello, anglers!
Is it just me, or do the mornings feel cooler and more brisk? I think the aspen groves are already telling us the answer to that question. We are counting down the final few days of the month of September which means the fall colors are here. Yellow is starting to show itself. This is always a killer time of year in the Eastern Sierra! Well, this time last year was a bit smoky, but the skies now are still maintaining a brilliant blue color most of the time.
The famous "fall bite" is turning on! While water flows are still low, I'm hearing of fish moving into the Upper Owens River from the lake. Some biggens are being fed flies on the Upper Owens right now. I enjoy stripping streamers this time of year, as some of the fish get aggressive knowing that the winter part time hibernation is around the corner. I think you'd have a lot of fun stripping beadhead Woolly Buggers on a floating line. Water is low enough that you're gonna have to hunt down terrain that holds fish, but there are buckets that are present. Be where the fish are.
Crowley is kicking out fish. Now is a good time to hit it, since DWP is planning on further pulling large quantities of water out of the lake beginning the second week of October. The Crowley Lake Fish Camp has advised that boat access will become more challenging beginning October 6. Flows out of the lake will remain high until October 13. Tells me that you might be better off on a float tube for the last month of the fishing season on Crowley. The hot spot still seems to be the North End where fly anglers are hooking fish in 9 to 13 feet of water. I've had good success with big, colorful midge patterns. 
The Lower Owens is still cranking at 375 cubic feet per second of water flow. While this is fishable, I tend to wait till flows drop. Be careful if you fish it. You can get swept away if you fall in. I anticipate flows dropping soon after October 13 when DWP plans on cutting back on the outflow of Crowley.
Hot Creek? I don't really know what to say. I haven't been down there in a while. I'm hearing reports of fish getting caught on small mayfly patterns. With water flows this low and fish counts equally low, I don't have any real desire to fish it or guide it. I'm just hoping for a massive winter, like the rest of us.
Last week, I discussed the lakes in the Mammoth Lakes Basin and June Lake Loop. I'll still pump them up this week. The fall bite on these lakes can be epic! We usually hear of monster browns coming out of Gull Lake in late September/ October. Casting lures or soaking nightcrawlers will do the trick. The lakes up West Line Street are super low, but no reason you can't fish them also.
As challenging as this summer has been with low water flows and high water temps, we are entering fall with some promising observations. First and foremost, the air is clean. Water temps have dropped thus stabilizing the oxygen levels in fisheries. Crowds get light this time of year. And, you'll catch a fish if you put your time in on the water. Shoot me a comment in this report of how you're doing. This doesn't need to be a one directional report, as we'd all like to hear.
That's your short and sweet fish report for this week. There are too many fisheries to list. Chris Leonard will be giving us our weekly fish report, and will mix it up every week talking about different places to get fishy. Chris Leonard guides for Kittredge Sports in Mammoth Lakes.
Have fun. Be safe. Go get 'em!