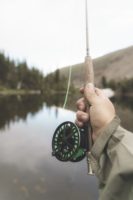 Hello, anglers!
August is wrapping itself up, and there's still some decent fishing to be had here in the Eastern Sierra this summer. It needs to be clearly stated that a lot of the creeks and rivers are low due to the drought conditions, and therefore not fishing as well as they do after banner snowfall winters. But, the Eastern Sierra is a vast range, and a lot of the lakes are kicking out some good fish. The lakes are the best places to be right now!
Gull Lake produced some very beautiful fish this last week. A fly angler working the waters at Gull got into a massive hook jaw brown, and some decent rainbows also. This little gem of a fishery located in the June Lake Loop is a great place to spend a half a day. It's small enough that it is very float tube friendly. It will also accommodate any boat. There is a public boat launch ramp. Your best bet is to strip streamers. An Olive Matuka on a sink line will get your flies down into the zone. The fish tend to be all over the lake. I wouldn't hit it though without working just outside the marina, and along the reeds on the eastern shoreline. Bait anglers will do just fine with an inflated nightcrawler. It's a very pretty place as it's lined with aspen trees. 
The inlet of Grant Lake is also worth a shot. Grant Lake is so low right now that the fish are going to be highly concentrated. A lot of fish will move up into the inlet looking for the water flowing into it from Rush Creek. This is true of the nature of any lake with an inlet. And, there are plenty like this in the Eastern Sierra. I would fish it the same way I suggest fishing Gull Lake. Belly boat with a small streamer on it. You could also kick around with jigs. 
Off the beaten path and deep into the backcountry, I'm seeing photos of pure strain golden trout being caught. This is a great time of year to hike into the backcountry and up to the higher elevation lakes. The lakes in the Cottonwood Lakes Basin above Lone Pine legally open up for fishing this next week on September 1. Now would be a great time to pound some trails, and get after them. These fish haven't seen flies for a long time, so they are going to be opportunistic feeders. Goldens are also fairly aggressive fish and behave a lot like brown trout. So, tossing lures is not a bad way to get them. They will chase down lures. A Panther Martin is just fine. Look for the shallower shelves on the lakes, and fish these shelves where the deep water meets the shallow water. The fish will come up after your lures and flies. 
Crowley is fishing well. As mentioned last week, the fish have moved into shallower water in the 9 to 18 feet depth range. It's a good idea to midge fish around the weedlines. The fish cruise up and down along the weedlines. Just get your bugs down to about a foot off the bottom of the lake. Be observant of what midges you see flying around per what colors to use. It is a fun place to be. I will be guiding Crowley this weekend. 
That's your short and sweet fish report for this weekend. There are too many fisheries to list. Chris Leonard will be giving us our weekly fish report, and will mix it up every week talking about different places to get fishy. Chris Leonard guides for Kittredge Sports in Mammoth Lakes.
Have fun. Be safe. Go get 'em!