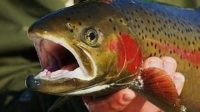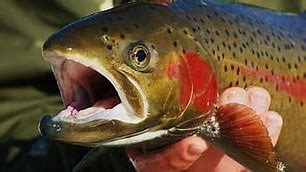 Hello, anglers!
Well… here comes winter! And, it's looking a lot like the higher elevations of the Eastern Sierra are about to get pounded with snow, while the valley is eyeballing a rainstorm. We're in such dire need of the water that this is a real blessing. I'm personally hoping for 500 to 600 inches of snowfall this winter. We are coming out of the gates strong, but how we finish is definitely more important than how we start. Regardless, this storm is great news for the fisheries in this part of the world. So, what's it mean for fishing in the Eastside the next few days?
We are looking at heavy, wet "Eastern Sierra cement" in this week's storm. That's snow which is highly concentrated with water. There are different qualities to snow, some languages of the world have several different vocabulary words to describe the different types. This "cement" will most likely close auto access to the higher elevation lakes above Mammoth. The road to the Lakes Basin will likely be shut for the season with this storm. If you're feeling adventurous, snowshoeing to Lake Mary or Lake George to cast some nightcrawlers sounds like a lot of fun! You'll have the entire Lakes Basin to yourself!
Keep an eye on the weather if you're going to venture out on Crowley. Winds on Crowley can produce dangerous boating and float tubing conditions. Besides shutting down the midge hatches, winds on Crowley produce a "Victory at Sea" scenario that's not conducive to safe fishing on the water. If you happen to score a calm wind day, I'm hearing reports that the fish are still stacked up in the North Arm. I would kick around in a tube with a perch pattern, or midge fish just off the bottom in the shallower depths. It's getting tough this time of year. Those fish get highly educated come October, but it should still kick out some trophy trout.
All eyes should be focused on the Lower Owens River right now. Flows have dropped to a very fishable 174 cubic feet of water per second. Those fish are going to be on the move looking for food. While a good rain event could murk up the water a bit for fly fishing, if the flows hold constant, you're going to get into some good fishing. Keep your eyes open for PMD's and BWO's in the middle of the day. There are probably some late season caddis still hanging around also. One of my favorite wet flies to fish when the flows kick up is a pink or red rubber worm. Increased flows add more natural food to the water, and the rubber worms are easier for the fish to see in tannish water. As for bait anglers, soaking Powerbait on a treble hook down by Line Street seems like a brilliant idea.
A really pretty place to be this next week would be up Bishop Creek. There will be snow in the higher elevations, but the fresh white snow accenting the aspen and birch trees is always a welcome sight. Soaking salmon eggs on a treble hook will provide dinner. Fly anglers will hook trout on a Parachute Adams or Royal Coachmen. Just be sure you cast your flies to where the fish lie in wait! I would work behind rocks and next to the undercut banks. Where you cast is just as critical as your fly selection, if not more.
The later part of next week is looking drier than the start of the week. This will probably make for easier fishing access on Hot Creek and the Upper Owens River. Be aware that several cars get stuck in the wet sand on the Upper Owens, and you don't want to be one of them. When the rain and snow saturate that sand, it turns to quicksand. Be strategic in how you access the Upper Owens, or it's gonna cost you several hundred dollars to get towed out. Trust me. This might be the best advice I have to offer this week!
That's your short and sweet fish report for this week. There are too many fisheries to list. Chris Leonard will be giving us our weekly fish report, and will mix it up every week talking about different places to get fishy. Chris Leonard guides for Kittredge Sports in Mammoth Lakes.
Have fun. Be safe. Go get 'em!