Christine Bodine
January 2, 1919 – August 18, 2015
Chris passed away August 18, 2015, at the Bishop Care Center. She was 96.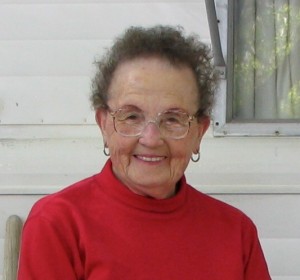 Born in Lindsay, Oklahoma to Charles Cunningham. Chris' father died when she was young and her much older brother left, leaving her and her mother Mary Rogers, known to the family as Ms. Crum, to live off the land in rural Oklahoma. The Great Dust Bowl chased off Chris and Ms Crum to California. She was Rosey the Riveter during WW II, assembling bulletproof gas tanks for fighter planes.
She met John Bodine in Southern California and married in 1942 She used to dance to Benny Goodman band and digging up beaches during the grunion runs. The two moved to the suburbs, a house and a car, John Charles came in 1944 and Terry followed in 1950. It was as a mother that Chris found her true calling. She was the best cook even after losing her sense of smell when she was in her 50s. The first thing she would say when you say her was usually, "Did you have something to eat, honey?"
She worked as a volunteer most of her life at local hospitals and headed up the Candy Stripers organization. Started her first paying job at the age of 60 working at Northern Inyo Hospital in the collections department.
She had an outgoing spirit, a very giving nature and loved animals. There were plenty of camping trips and endless supplies of biscuits and gravy or short spaghetti. Bodine's like to eat.
Chris had a grace and generosity that was genuine and never lost to age. She could make friends in an instant and had thousands of them, some from second grade that still kept in touch. She had an outgoing spirit and loved animals. She was the sweetest person you'd ever meet. This place has lost a light, and its a little dark, but she was bright enough to keep shining long after she's gone.
Christine was preceded in death by her husband John A. Bodine and son John C. Bodine. She is survived by daughter Terry Pledger of Newhall, CA. Grandsons Mike Bodine of Bishop and Charlie Bodine of Agua Dulce, CA. Great Grandchildren Diana Bodine of Bishop, CA and J.C. Bodine of Agua Dulce, CA, Also Rita Heller of Michigan and Claudie Montgomery of Oregon.
Graveside services will be held September 29 at 10:30 a.m. at the West Line St Cemetery 929 W. Line St. Bishop. Please join us for a celebration of life at Bishop First United Methodist Church right after the services. 205 N. Fowler St. Bishop.