Last Friday, a Los Angeles man moving some of his belongings to Colorado wrecked his vehicle and U-Haul on 395 across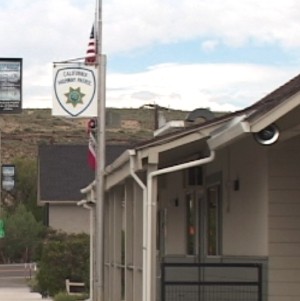 from Mammoth Airport. Officers found some ten firearms when they inventoried his vehicles. Now, they will seek a felony charge of possession of an assault weapon.
The Highway Patrol in Bridgeport reported that 54-year-old John Anthony from LA County was driving his personal vehicle, a 2000 Land Rover Discovery, and towing a one axle U-Haul trailer northbound on 395. Officers said he was driving at an excessive speed when the U-Hauls began to fishtail. Officers said Mr. Anthony could not regain control of his vehicle. The Land Rover and U-Haul veered over the east edge of the highway, down the dirt embankment and overturned.
Mr. Anthony suffered moderate injuries and was transported to Mammoth Hospital. Later when officers inventoried his vehicles, they did discover a number of firearms. Initially, he was cited and released for a reported concealed weapons misdemeanor violation.
Later officers confirmed that one of Anthony's rifles was in violation of the California Assault Weapons Act. The CHP has requested that a felony charge be filed. Officer Doug Northington said that the man's Plumcrazy 5.56 caliber rifle is considered an assault rifle.