The injured mostly remain hospitalized and the survivors mourn the losses in that three-vehicle accident on Highway 395 Monday night. CHP officials continue the work to unravel the mystery of why the fiery crash happened.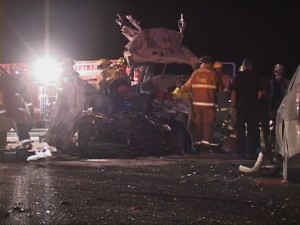 CHP Assistant Chief Stephen Webb explained what officers are doing to find answers. He said a lot of is through witness statements. "We've taken the time to interview all of the witnesses we know of, and we may seek additional witnesses to make sure we haven't missed anybody," said Webb. "And we also look at all the physical evidence that's out there. It does take some time."
Webb said the CHP Major Accident Investigation Team (MAIT) will handle this. He said that it's hard to tell when they may know anything solid. "The job of the team is to determine the best we can exactly what happened."
CHP investigators have talked to some of the accident victims. He said there are conflicting statements, so they will try to sort that out.
Wednesday, Chief Webb said that nothing new has surfaced. He did say some of the injured were released form the various hospitals. Six remain in hospital facilities from Bishop to Reno and southern California.
According to the San Diego Union Tribune two San Diego area teenagers died in the Ford SUV that rolled and crashed into a van of Cal Baptist University students, killing the driver, who was former cheerleading coach Wendy Rice.
The two teen girls who died, according to the Tribune, are Amanda Post and Natalie Nield. Two other teens and an athletic trainer from that vehicle remained hospitalized. News reports said that the four teenagers ran track or cross-country.
Meanwhile, in the Corona area, friends and family of former high school cheerleading coach Wendy Rice mourned her loss. She was at the wheel of the Cal Baptist University van, driving students to Mammoth Lakes for high altitude cross country training. News reports said Rice had led the Corona squad to winning the Cheerleaders of America West Coast Open Championship and many other honors.