CHP PRESS RELEASE:
Planning is well underway for Super Bowl XLVIII. Along with that planning, the California Highway Patrol (CHP) is reminding everyone to ensure they have a plan in place for getting home safely after the game.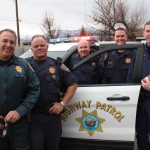 If you are planning that perfect Super Bowl party, make sure you have a plan to get your guests home safely as well. Providing safety, service and security throughout the state, local CHP officers will engage in increased patrol and enforcement during the Super Bowl.
The Super Bowl is scheduled for Sunday, February 2, 2014, however, the NFL has put contingency plans in place to play the game any time between Friday and Monday, depending on weather. Funding for additional officers for the increased patrol is provided by a grant from the California Office of Traffic Safety, through the National Highway Traffic Safety Administration.
CHP officers assigned to Bridgeport Area will be out looking for impaired drivers. To prevent loss of life and ensure everyone enjoys a safe, fun Super Bowl, the CHP joins with the National Highway Traffic Safety Administration by recommending the following simple tips:
· Make arrangements for a safe trip home before the party begins.
· Before drinking, please designate a non-drinking driver and leave your car keys at home.
· If you are hosting a party, make sure to have fun non-alcoholic beverages for the designated drivers attending your party.
· If you are impaired, use a taxi, call a sober friend or family member, or use public transportation so you are sure to get home safely.
· If you suspect an impaired driver is on the road, report that driver by calling 9-1-1. Callers should be prepared to give a description of the vehicle, license plate number, location, and the vehicle's direction of travel.
· Remember, if you know people who are about to drive or ride home with someone who is impaired, help them make other arrangements to get to where they are going safely. If a friend is drunk and wants to drive, encourage them not to, even if it means taking their keys away.
"Save a life, designate a non-drinking driver, before the party starts, and have a great day of football with family and friends." said Lieutenant R. D. Cohan, Commander of the CHP's Bridgeport Area.