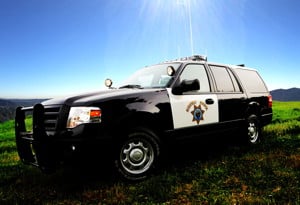 On July 22, 2014, at approximately 2:50 PM, Mr. Andrew Hickey was driving a 2001, Dodge, Durango, northbound on US highway 395, south of Swauger Canyon Road at 55 miles per hour.  A shoe box size rock began to roll from the southbound dirt/rock embankment and across the highway.  The rock rolled into the northbound lane causing Mr. Hickey to take evasive action and steer the vehicle to the left.  This action caused the right rear tire to strike the rock causing Mr. Hickey to lose control of the vehicle.  Mr. Hickey steered the vehicle to the right, causing the vehicle to leave the roadway and come to rest on its left side.  Mr. Hickey and Mr. Bradley Naughton, who was the right front passenger,  were not injured.  California Highway Patrol officers were assisted at the scene by Mono County Paramedic Fire/Rescue, Medic 7 (Bridgeport), Bridgeport Fire Department, and the Mono County Sheriff Department.
//////
On Tuesday, July 22, 2014, at approximately 4:08 P.M., two California Highway Patrol (CHP) Officers assigned to the Mammoth Lakes Resident Post were completing a traffic enforcement stop when they were flagged down by a concerned citizen who was reporting a possible traffic collision. The CHP officers responded to Crowley Lake Place, just east of US Hwy 395 and located a vehicle in a culvert off of the roadway.  The officers contacted witnesses at the scene and based upon witness statements the officers responded to an address on Crowley Lake Drive.
There officers located Ms. Ashley Mull.  While speaking with Ms. Mull one officer detected the odor of alcoholic beverages emitting form Ms. Mull's breath and person.  Based on physical evidence and witness statements, the officers determined Ms. Mull had been operating the involved vehicle under the influence of alcohol. The involved vehicle was locked and left at the scene of the incident.
Ms. Mull was arrested and transported to Mammoth Lakes Hospital to complete a chemical blood test. After completion of the chemical test Ms. Mull was transported to the Mono County Jail and booked for driving a motor vehicle while under the influence of alcohol. Officers form the Mammoth Lakes Police Department and deputies from the Mono County Sheriff's Department assisted the California Highway Patrol with this incident.