When the weather turns rough these days, CHP officers set up stop points to see if motorists have chains with them. This past Saturday, Bridgeport CHP officers turned back some 400 people traveling north who did not have chains.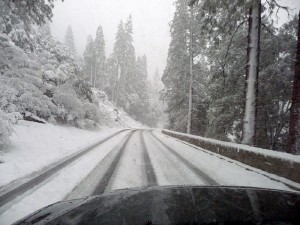 CHP Public Information Officer Doug Northington in Bridgeport said that vehicle code does require motorists to carry chains when signs are up or when R1 or R2 conditions exist.
Over the week-end conditions did go to R1 and R2 so officers set up stop points at Tom's Place and the Green Church. From those two points, they found around 400 cars with no chains on board. They were turned back down the highway.
Officer Northington did say that the vehicle code does allow travel with a four wheel drive in R2 conditions but he said that code still requires four wheel drives with snow tires to carry a set of chains. Another section of the vehicle code requires that motorists obey regulatory signs like the ones Caltrans posts that say Carry Chains. Asked if enforcement of these codes just started in recent years, Northington said, yes.
Northington added that Saturday was a "nightmare" on 395 north of Bridgeport. He said heavy snow, bad visibility, and high winds added up to numerous spin-outs. He said vehicles were "stacked like firewood." CHP closed Highway 395 and took six hours to get everyone unstuck.
This situation contributed to the chain control stop points in the south end of the county. Some called it bad public relations for the holiday. The CHP calls it being proactive for safety with the plan to keep stops and closures to a minimum.