News release
The California Highway Patrol will conduct a sobriety checkpoint, on Friday, September 1, 2017 on US-395 at the southern city limits of Bishop," Captain Timothy Noyes, Bishop Area Commander, said Monday.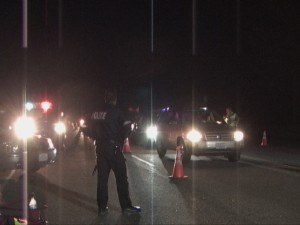 Sobriety checkpoints will be staffed by California Highway Patrol (CHP) Officers who are trained in the detection of alcohol and/or drug impaired drivers. CHP Drug Recognition Experts, certified by the National Highway Traffic Safety Administration, will be on site to provide on-the-spot assessments of drivers suspected of drug use. The officers will also be equipped with state of the art hand-held breath testing devices which provide an accurate measure of blood alcohol concentrations of suspected drunk drivers.
"Each year, members of our community are needlessly maimed and killed on our roads. Our goal is to ensure the safe passage of each and every motorist by targeting roads where there is a high frequency of drunk driving. A sobriety checkpoint is an effective tool for achieving this goal and designed to augment exiting patrol operations. By publicizing our efforts we believe that we can deter motorists from drinking and driving," said Captain Noyes.
Captain Noyes emphasized, "Traffic volume permitting, all vehicles will be checked and drivers who are under the influence of alcohol and/or drugs can expect to be arrested. Our objective is to send a clear message to those considering mixing alcohol and/or drugs with driving, the California Highway Patrol will be keeping a watchful eye out for you."