Press release
CHP Officer Adam Otten slowed when he spotted the tall, long-legged Great Blue Heron standing in the median of Highway 395 just south of Aberdeen Station Road.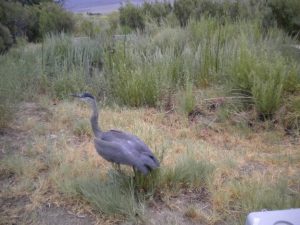 He stationed his vehicle, with lights flashing, to alert and stop traffic. On foot, he moved behind the large wading bird and slowly herded it across the two southbound lanes and onto the shoulder.
"At that point," he told ESWC's director Cindy Kamler, "the bird just kind of collapsed. I wrapped it in a jacket and put it in the back of my car."
Otten contacted his dispatch which in turn called Eastern Sierra Wildlife Care's rehabilitation facility at Keough's Hot Springs with a heads-up. Knowing that CHP was on the way, animal care staff prepared the Medical Room for an examination of the incoming patient.
"Great Blue Herons use their long pointed beaks for spearing fish and other prey. Handling them can be dangerous, so we immediately got our safety goggles ready," explained Assistant Animal Care Director Kelly Bahr. "In addition, controlling a heron's long legs, long wings, and long and flexible neck is challenging."
The birds are infrequently seen at the rehab center, and the hospital cages are not large enough for them to stand upright in. "We quickly put together one of our extra-large dog kennels with a soft, non-skid pad on the floor and were ready when the bird arrived."
The bird was a little subdued and the exam was carried out smoothly and quickly. Two puncture wounds were found on the lower breast; one was bleeding and air was pumping out of the other. Pressure was applied to both injuries.
The bird was also treated for stress and pain and put into the covered kennel to rest. Both the blood and air loss stopped fairly soon. (As part of a complex respiratory system, birds have air sacs at several locations in the body.)
The cause of the punctures was not immediately apparent, but a follow-up exam revealed that they had been caused by a sharp, narrow, curved object about an inch long.
Having treated a number of birds and mammals who suffered puncture wounds caused by the sharp talons of a bird of prey, and knowing that eagles have been known to mount aerial attacks against birds as large as White Pelicans, the scenario that evolved was one in which an eagle had attacked the Great Blue.
These ungainly birds often perch on wooden power poles or trees and, most likely, the eagle swooped down and grabbed the heron's body with a talon, then lost control and it fell to the ground.
The bird was started on antibiotics and given a few days to recover from the attack. The wounds were not deep and healed rapidly. He proved to be surprisingly cooperative, eagerly gulping down trout supplied to ESWC by the Fish Springs Fish Hatchery.
A 20′ aviary was prepared for this shy, high-stress bird by bringing in trash can loads of tules from the nearby hot ditch for walking and standing on, and numerous willow branches to create hiding places. In just a few days, he was walking around, eating voraciously, and flying 18 feet up to a 5-foot perch.
Just one week from the day that Adam Otten rescued him, the recovered Great Blue Heron was driven to his creekside home area. Eagerly, he emerged from his carrier, checked out his surroundings, and vanished into the willows. Free and healthy once more!