A Highway Patrol officer stopped a Bishop man who they said was speeding and weaving on 395 in Big Pine.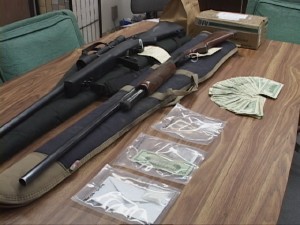 Offices arrested George Mendiburu of bishop. The officer noticed firearms in the pick up truck and determined that Mendiburu was under the influence of a controlled substance.
The man was arrested for driving under the influence of a controlled substance. A CHP K-9 searched the truck and found about one half ounce of methamphetamine and over $4500 in US current, according to officers.
Inyo Narcotics agents were called to the scene to deal with the case and evidence. Mr. Mendiburu was transported to the Bishop Police Department and interviewed. He now faces charges of being a convicted felon in possession firearms and possession for sale and transportation of a controlled substance. Officers said that the man faces an additional charge of being armed in the commission of a felony.
The suspect was released on bail of $25,000 from the Bishop Police Department. He will appear for court arraignment at a later date.