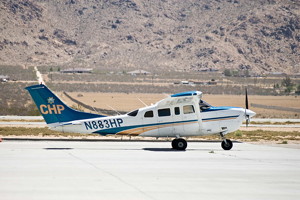 RESULTS OF CHP AIRCRAFT SPEED ENFORCEMENT DETAIL
On Sunday, September 14, 2014, California Highway Patrol (CHP) Bridgeport Area, in conjunction with the CHP's Inland Division Air Operations Unit, based at Apple Valley Airport, conducted an aircraft speed enforcement detail on US-395, south of Topaz Lane (between Topaz Lane and Cunningham Lane).  This section of highway has a posted 55 mile per hour maximum speed limit.
During the approximately two hour detail, the CHP aircraft officer identified vehicles traveling in excess of the maximum speed limit and directed officers on the ground to make enforcement contacts.  A total of 11 enforcement contacts were made resulting in nine citations and two verbal warnings.  Eight citations were issued for exceeding the maximum speed limit, one citation was issued for a registration violation, and two verbal warnings were issued to drivers from out of the country.
According to the most recent State Wide Integrated Traffic Records System data, in 2012, 459 people were killed on California roadways in collisions where the primary collision factor was determined to be unsafe speed for conditions.  Another 70,291 people were injured in unsafe speed for conditions collisions.  The California Highway Patrol would like to take this opportunity to encourage drivers to slow down and pay attention to the speed limit.  Please, don't become a statistic.