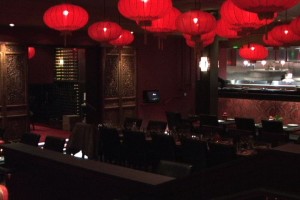 Good food is always welcome and this week Mammoth Lakes welcomes good Chinese food when the Red Lantern opens on Friday, December 2nd.
The Red Lantern, privately owned by Jim and Nancy Demitriades, is the newest addition to their Sierra Nevada Lodge Resort, which already offers fine family dining at Rafters restaurant.
Located on the lower level of a completely remodeled structure on Old Mammoth Road, previously the Ocean Harvest restaurant, the Red Lantern serves exceptional Chinese food at an affordable price.
At a private tasting last week Jim explained that his passion for food, which he developed during many years of international travel, has motivated him bring unique flavors from around the world to Mammoth.
In creating the Red Lantern Jim described how he and Nancy were able to tap into the wealth of talent and skills in Mammoth and that only local contractors and artists were used in remodeling the facility.
"We thought we would need to bring in skilled labor and recruit staff from out of the area," Jim said. "We were delighted to find all the talent we needed right here in Mammoth.
Nancy turned her talents to creating an elegant interior with artifacts and décor sourced from China.
Intricately carved antique wooden panels serve as sliding doors to an intimate section of the restaurant that can be reserved for private functions. Open or closed these doors are a graceful feature of the main dining area.  The primary feature of the restaurant is a beautiful array of red lanterns suspended at varying levels above the tables and cast a warm, delicate glow around the room.
On arrival guests are greeted with a complimentary warm plum wine to ward off the chill of the Mammoth winter outside. Enticing cocktails are crafted by Managing Bartender, Gary Mucci, and wine by the glass is available from an extensive cellar.
During the tasting each course was paired with wine specially selected by Wine Director, Chip Ermish, who can recommend the perfect wine complement to every dish on the menu. He says diners should not settle for just one taste … a meal should be a "pairings experience".
Executive Chef, Kerry Mechler, has his plate full overseeing the kitchen at Rafters and now the Red Lantern and his superlative talents have created a sumptuous, if not extensive menu.
At the tasting we were treated to most of the items on the menu and it was difficult to decide which was best. We sampled Wonton soup, spring rolls, beef skewers, lettuce cups and Shumai, a pork and ginger dish, from the selection of soups and appetizers.
Salads presented were fruity in the form of Jicama and Asian Pear, and a warm cucumber and sea been salad was crisp and fresh. Entrées included Kung Pao Chicken, Wok Shrimp, Chinese Eggplant and Brussel Sprout Leaves. Oversized fortune cookies were served with dipping sauces and mango pudding and lychee jello rounded out the meal.
Every dish is made fresh, in house, and does not contain any preservatives or additives.
With the exception of the Fried Whole Fish, which is listed as "Market Price", no entrée is more than $18, appetizers and sides come in under $12 and eight vegetarian dishes are only $8 each.
The Red Lantern will open to the general public on Friday, December 2nd for dining in and take out. Reservations and orders can be made by calling: (760) 934-9432.