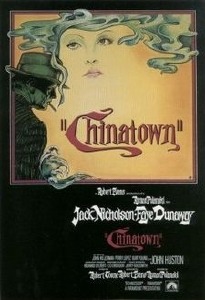 PRESS RELEASE—
From Mark Bagley, OVC Executive Director
The Owens Valley Committee Presents
"Chinatown" and the Owens Valley
The Owens Valley Committee invites its members and the public to a program by John Walton, U.C. Davis professor and author of "Western Times and Water Wars." Wednesday evening, September 5th, at 7:00-8:30 pm at the Lone Pine Film History Museum.
Roman Polanski's 1974 film "Chinatown" is included on every list of the 100 (or 50) best movies. The film is based on the water wars between Los Angeles and Owens Valley in the early twentieth century, although Robert Towne's Academy Award winning screen play takes many liberties with the historical facts, moving events to the late 1930s and casting the political conflict as a conspiracy and murder mystery. Nevertheless, "Chinatown" has come to be understood as the real history and that understanding, in turn, has influenced  the citizen movement which has succeeded in reclaiming some of the valley's water and habitat.
Professor Walton's talk will include clips from the film and will examine the film in historical context, the origins and consequences of "Chinatown." For more information contact www.ovcweb.org.