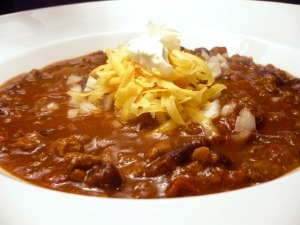 Five-Alarm Chili Cook-Off
It's not too late to get tickets or enter your best chili concoction in the Five-Alarm Chili-Cook off scheduled for this Sunday from 5-8 pm at the Bistro at Snowcreek.  Celebrity judges include Town Council Mayor Pro-Tem Matthew Lehman, Mono County Board of Supervisors Chair Hap Hazard, and Mammoth Lakes Unified School District President Betty Kittle. Ticket price is $25 for adults, $10 for 10 and under.  If you submit a chili for judging, there's no admission charge.
The proceeds go to the Mammoth Gateway Community Project (www.mammothgateway.org).  Tickets purchased will be credited towards the purchase of a $125 brick paver to be permanently installed at the Gateway Monument.
Tickets can be purchased at the Police Station or Fire Station No. 1.  To enter the competition, contact Dan Watson at [email protected]  For more information, contact Ales Tomaier at [email protected]