Press release
Mammoth Lakes Repertory Theatre Presents its 2017
Theatre for Young Audiences Production of ART DOG
The Children's Classic has one public performance Sunday, November 12th only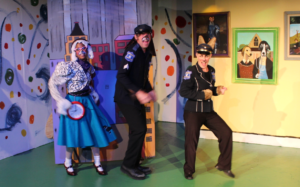 Mammoth Lakes – Mammoth Lakes Repertory Theatre's annual Theatre for Young Audiences (TYA) production for 2017 is based on the children's book "Art Dog" by Thacher Hurd. It is being presented free of charge to children throughout Mono and Inyo Counties from Monday, November 7th through Tuesday, November 15th thanks to the generous support of Mammoth Lakes Foundation, Town of Mammoth Lakes/Measure U, and an Anonymous Donor.  There will be one public performance on Sunday, November 12th at 11 am in Edison Theatre.  Tickets for that show are on sale now.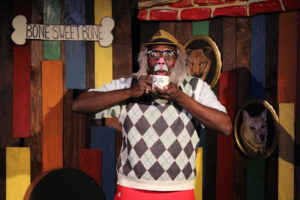 "Last year we had 1300 children come to the theatre and see our TYA production of 'Stellaluna,'" stated Artistic Director Shira Dubrovner. "Our goal this year was to sustain this program at 1300, with every Mammoth Lakes student in grades K-5th making a field trip to the theatre.  In addition, we have expanded our range and are welcoming students from Big Pine, Bishop, Lee Vining, Round Valley, Benton and Bridgeport."
This charmingly art-full production of ART DOG by playwright John Oliver, based on author Thacher Hurd's book of the same name includes music by Susan Ennis. The show is directed by local Susan Dalian and features locals Tim Casey, Lisa Gill, Susan Dalian, and Maurice Cooper as Art Dog.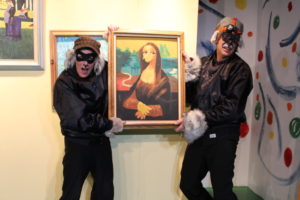 The show includes dog-centered reproductions of famous art created by Rhondda Saunders of Bishop. "We chose Rhondda to recreate the art for us as she has a whole series of Weiner Dog Art, charming and topical, available for sale on FineArtAmerica.com," added Dubrovner. "Her sense of humor as well as her artistic ability made her the ideal choice."
"Art Dog" takes place in Dogopolis where someone has stolen the Mona Woofa from the Dogopolis Museum of Art. The police do not even realize that they are barking up the wrong tree when they collar their number one suspect. Therefore, it is up to Art Dog, the mysterious, masked painter who roams the streets of Dogopolis, to find the missing masterpiece.
MLRT also provides an Educator's Resource Guide in advance to all the teachers to help enhance the storytelling and educational experience of the production. This year's guide had a special emphasis on art. Dubrovner also makes it a point to include a quick lesson on theatre etiquette before each performance.
"It's important for young people to have a positive experience in the theatre and prepare them for life," added Dubrovner. "The arts afford a myriad of opportunities to experience life lessons on the stage and in the audience."
The one public performance on November 12th is an opportunity for parents to share the experience with their children, as well as for visitors, home schooled students, and all those who still have the light of childhood in their hearts. Please join Mammoth Lakes Repertory Theatre on November 12th for an experience that you and your child will not soon forget.
Purchase tickets in advance at www.MammothLakesRepertoryTheatre.org ($15 Adults/$10 Children). Tickets at the door- $15 per person -No discounts.
FACT SHEET:
What:                    ART DOG presented by Mammoth Lakes Repertory Theatre
Where: Edison Theatre – 100 College parkway
When:                   Sunday, November 12th at 11:00 am
How:                      www.MammothLakesRepertoryTheatre.org
Tickets online: $15 adults / $10 child; Tickets at the door $15 – No discounts
Rating – All Ages
The Mammoth Lakes Foundation offers free education (books and tuition) to any Mono County resident and/or high school graduate who pursues an AA degree at Cerro Coso Community College and provides year-round theatre programming at Edison Theatre. For more information or to make a tax-deductible donation, please contact the Foundation at (760) 934-3781 or visitMammothLakesFoundation.org. Our nonprofit work is only possible through your generosity.