A Lone Pine man that had been accused of child molestation, agreed to plea no contest to a lesser charge and has since been sentenced to time served and probation.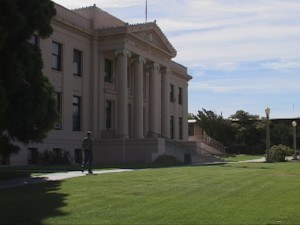 In February, Inyo Sheriff officers arrested 53-year-old Richard Douglas Olson of Lone Pine for alleged child molestation. The victim was said to be a twelve-year-old juvenile, according to Inyo Sheriff officials at the time. While originally charged with molestation, Olson has pleaded to assault with force likely to create great bodily injury, according to Assistant District Attorney Mark Johnson.
Johnson reports that the judge sentenced the man to five years probation, which includes no contact with minors, treatment as ordered by the probation officer, and time served. Attorney Gerard Harvey, who represents Olson, says that his client has maintained his innocence all along.
When asked how this case ended up as a felony assault, rather than child molestation, Harvey said that its possible the DA found out the victim wasnt available to testify, or the victim possibly changed his story. The DAs office declined to comment on specifics beyond the details of what both sides agreed to.