Its not an out of control problem like in other areas of the country, but local officials are starting to see an uptick in gang activity in the City of Bishop. Gang graffiti continues to appear on homes, businesses, and churches throughout town, leaving owners and maintenance crews to clean up the mess.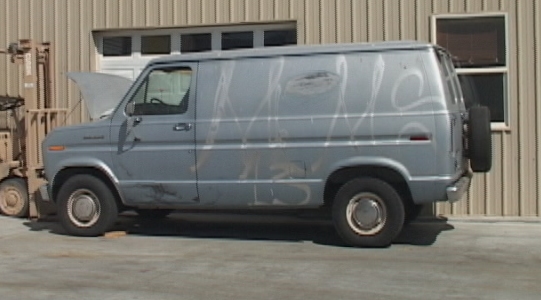 Its not just a visual impact that these budding gangs have. Police have responded to fights between various groups in town, and there does appear to be occasional links to larger gangs outside of the area.
We recently sat down with Bishop Police Chief Kathleen Sheehan to discuss this problem. She explained that many of the people who claim allegiance to some sort of gang break down on a racial basis. There appear to be a few groups claiming allegiance to Mexican, or Latino gangs from out of the area, but there are also groups of whites, and Paiutes that could be considered gangs.
Gangs dont have to be based on race. The Chief explained that there is a group called the Seventh Sign that rallies around the movies and music that are based on the Book of Revelations. Valium and vicodin appear to be the drugs of choice for this group, according to Sheehan. This group also has a propensity to cut themselves.
The Chief says that most of the people who claim allegiance to gangs are local, but some of the Hispanic groups have ties to gangs in the greater Los Angeles area, Lancaster, Antelope Valley, and Fresno. If there is trouble between groups, Sheehan says that outside gang members have come to the Bishop area as back up.
With six suspected gangs members in court on various charges the last week of June, gang-related graffiti was painted in two foot high letters on a wall in the parking lot across from the Superior Court in Bishop.
After a separate downtown Bishop graffiti spree, Bishop Police ended up making nine arrests. Two of those arrested were deported to Mexico. The chief says that one of the people deported had ties to drug trafficking organizations in Mexico, and had been in the area looking to recruit local kids into the gang to which he belongs.
Graffiti is where most people will come into contact with the budding gangs of Bishop, but police have dealt with violent confrontations between groups in town. Sheehan says that kids claiming gang allegiance have been involved in fights at school, knife threats, and on at least one occasion, an organized brawl in the Bishop City Park where a Hispanic gang from Mammoth squared off with a Hispanic gang from Bishop. The fight was called off after one gang member held a gun to the head of another and put a stop to the whole thing. Unbeknown to the gang member with the pistol pointed at his skull, the gun was actually an air soft gun that shoots plastic pellets, according to the chief.
There has been talk that the recent murder in Bishop was gang related. While the case is being handled by the Sheriffs department, Chief Sheehan says that to her knowledge the murder was not gang related.
Why do young people decide to join gangs? Chief Sheehan explained that the reasons are many and complex. It could be as simple as two kids who dont like each other join gangs to continue their antipathy toward each other but with back up.
Regardless of the size or extent of the local gangs, the names of which are being left out to avoid free advertising, the Chief says that there is plenty people can do about the issue. Sheehan asks parents to know where their kids are and who they befriend. Watch your kids wardrobe for a preference to wear clothes of one color, usually red, blue, or black. Tattoos are a sign, as are specific tags or stylized names written on notebooks and other personal belongings.
If you see someone spray painting or tagging something, call the police. Chief Sheehan says that sometimes people might not call the police when they see suspicious activity like vandalism because people might think officers dont care. Untrue, she says. The police will follow up though the chief asks that you leave a call back number if you make a report.