Affectionately know around the Town of Mammoth as Blondie, this golden bear that is as tame as a golden retriever has her days numbered. As Wildlife Management Specialist Steve Searles and Mammoth Lakes Police Chief Randy Schienle gave their Human-Bear Management Plan update during the August 5 Town Council meeting, Searles received a page that Blondie had broken into yet another kitchen while they sat in the Suite Z meeting room. It was the Eastman cabin according to Searles, and Mayor Pro Tem John Eastman stated he had just convinced his family members that were living there that there was no problem and they didnt need to worry about the bear.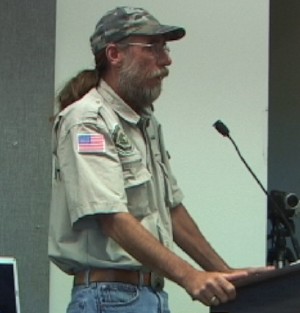 Searles reported that he had logged approximately 45 kitchens in the last 30 days. During an average summer Searles will log about four or five.
People are willingly locking their windows and doors, Searles said. They are living under siege.
However, Blondie has now begun to simply break through those closed windows and doors, and shes not the only culprit. A sow and her two cubs have also been responsible for several break-ins up in the Lakes Basin. However, due to restrictions that the US Forest Service has begun to enforce, Searles can no longer patrol the Lakes Basin. It is on Forest Service land and private citizens are not allowed to discharge firearms within 150 feet of developments on Forest Service lands.
Mammoth Lakes Police Chief Randy Schienle explained the difference between a depredation bear and a public safety bear. A depredation bear is one that is not threatening humans and can only be destroyed if a private citizen asks for a depredation permit.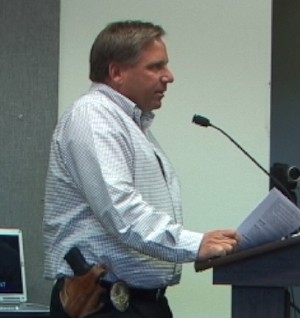 Blondie is a depredation bear. A public safety bear is one that attacks humans and will be actively pursued and destroyed by the Department of Fish and Game. Searles stated that he was trying to obtain the depredation permit for Blondie but had been denied. He added that Chief Schienle was backing him up the whole way and had even tried to obtain the permit himself as well. Both men had been denied.
I am willing to take the life of this bear, Searles, who has destroyed very few bears in his 14-year career, said. He explained that in California relocating bears is not allowed.
Chief Schienle added that a private citizen had come forward and was expected to be sitting down with DFG on August 6 to ask for the permit. If granted, the MLPD and Searles will pursue Blondie until she has been destroyed.
Two other, unrelated bears were hit by cars on Main Street last week. One was uninjured while the other had to be destroyed.