CDFW press release
The California Department of Fish and Wildlife (CDFW) will be conducting a wildlife checkpoint operation in the Eastern Sierra in early May to promote safety, education and compliance with laws and regulations.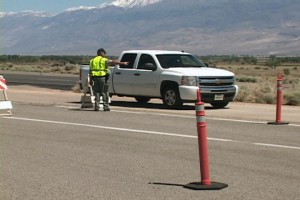 CDFW wildlife officers will be conducting the inspection on northbound Highway 395, north of Bridgeport, on Sunday, May 1 from 12 p.m. to 6 p.m., weather permitting.
The wildlife checkpoint is being conducted to protect and conserve fish and wildlife, and to encourage safety and sportsmanship by promoting voluntary compliance with laws, rules and regulations through education, preventative patrol and enforcement.
All anglers and hunters will be required to stop and submit to an inspection. CDFW officers and Natural Resource Volunteers will also be providing informative literature about the invasive Quagga Mussel and New Zealand Mudsnail.
# # #
This is the fifth year of California's drought. To learn about all the actions the state has taken to manage our water system and cope with the impacts of the drought, please visit
drought.ca.gov
.
Every Californian should take steps to conserve water. Find out how at
saveourwater.com
.
Please do not reply to this email. This account is for outgoing messages only and is not checked for incoming mail. For questions about this news release, please contact the individual(s) listed above. Thank you.
When you prepare your California income tax return, please consider making a voluntary contribution to the California Sea Otter Fund (line 410) and/or the Rare and Endangered Species Fund (line 403). Thank you!
www.wildlife.ca.gov/tax-donation
.
Persons with disabilities needing reasonable accommodation to participate in public meetings or other CDFW activities are invited to contact the department's Reasonable Accommodation Coordinator Melissa Carlin at
(916) 651-1214
or
[email protected]
.
Reasonable accommodation requests for facility and/or meeting accessibility should be received at least 21 days prior to the event. Requests for American Sign Language interpreters should be submitted at least two weeks prior to the event, and requests for real-time captioning at least four weeks prior to the event.
These time frames are to help ensure that the requested accommodation is met. If a request for an accommodation has been submitted but due to circumstances is no longer needed, please contact the Reasonable Accommodation Coordinator immediately.