PETS of the WEEK – April 21, 2010

SHILOH isa beautiful, 11-month old white and tabby cat with big,green eyes. She's a petite feline in search of a warm lap to call her own for the rest of her life. Interested?
SHELLY is a sweet 1-year old Miniature Vizsla mix. She is being treated like royalty by the Shelter staff and volunteers and having a great time. But, what she really needs is a forever home with a kindhearted adopter.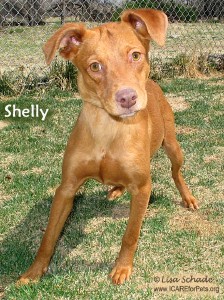 The Inyo County Animal Shelter has an amazing selection ofadorable cats andlovable dogs. Please adopt one today. Visit in person on County Road in Big Pine or on-line at www.ICAREforPets.org.
HOURS: Tuesday thru Friday, 10 am to 3 pm,Saturday and Sunday 11 am to 4 pm(closed Mondays). Phone 760-938-2715.Photos by Lisa Schade