Time to remind you about all of the beautiful dogs and cats who now wait at our animal shelters for someone to take them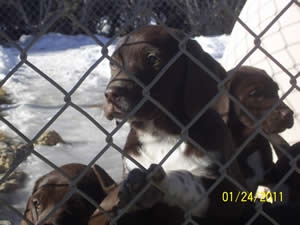 home.
At the Whitemore Mono County Animal Shelter Rebecca Bone calle3d us to say that there are terrific adoptable dogs available from a German Shorthair mix puppies to a Border collie and many others. Plenty of friendly cats waiting for a home, too. Kittens also available at Whitmore and Bridgeport shelters.
You can see them on the county website – www.monocounty.ca.gov. Go to adoption program under
Animal Control.
In Inyo, the shelter in Big Pine is full and in great need of those who want to adopt dogs and cats. Plenty of beautiful, mixed breed dogs of varying ages and temperaments for families and individuals.
Lots of gorgeous cats from long-hair to short-hair, black fur to striped. Lots of personality and purrs.
Check these animals out at inyocountyanimalshelter.com. choose cats or dogs.
And Eastern Sierra Dog Rescue will hold an animal adoption day for the Vons parking lot on Sunday, February 13, noon to 2:30pm.