Charlotte Walecke was born October 28th 1918 in northern Ontario, Canada in the area of Monteith Iroquois Falls to Parents Dominic & Alice McAndrew – whose occupation was running the Family Farm which consisted of mostly sheep and other domestics wool – shipped out by train and spare time was knitting plus other the other working of farm life.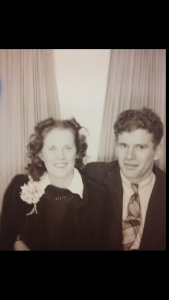 Her pre-deceased immediate family were  her Sister Ethal Renwick, brother Robert McAndrew, Sister Easter Johnson, Brothers Patrick McAndrew, Rollande McAndrew,
Charlie McAndrew.
Charlotte married her loving husband Joseph Walecke Valentines Day 1941.
In Monteith Ontario Canada eventually they set up home in Northbay Ontario started there family with Daughter's Brenda Fischer (Jim) Diane Bailey(Mike) & Gary Walecke.
They eventual moved to California around 1962.
Having Joseph's oldest brother Herman Walecke residing in California's southern climate in the Los Angeles area, moving to Orange, California where her husband spent his working years with St Joseph Hospital, previous working in Canada were mining and building sewer plants etc for the company Smith & Nelson.
Charlotte' workings consisted of  service work, seamstress, helping community, and later working in the elderly care facilities.
She has grandchildren Chris Bailey & Michael Walecke.
Retirement years were spent Snow birding from there home at the shore of Lake Nippissing in North Bay and other travels, eventually moving to the Bishop area to be closer to family in their older years.
Her husband passed away in 2003 Charlotte spent her last two years with her son at his home in Lee Vining, CA passed away peacefully in sleep on the evening of Dec 5, 2016, at home as she wished, under her son's care.
Funeral services will be held at 11:00 am at Our Lady of Perpetual Help Catholic Church in Bishop, Tuesday, December 13, 2016.