Attorney Gerard Harvey, earlier arrested on suspicion of being under the influence of drugs, entered a drug rehab program and went back to work as public defender for Inyo County. Last month, deputies arrested Harvey on the allegation of witness intimidation. Now, Harvey's public defender contract with Inyo has been cancelled without cause.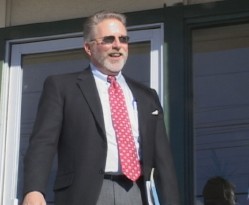 In early January, a witness in a case and also a client of Harvey's, reported to Inyo Narcotics Enforcement Team that Harvey had allegedly made a threat.
INET's Jeff Hollowell said that this case has been referred to the Attorney General because of local district attorney lawyers daily involvement with Public Defender Harvey. No charges have been filed so far.
As for the public defender department in Inyo, County Administrator Kevin Carunchio said that each of the remaining four public defenders have assumed part of Harvey's responsibilities. Carunchio said the county is now advertising for a contract public defender. Ads have gone out in Mammoth Lakes, Inyo and Ridgecrest. Carunchio said Inyo is "evaluating the options." The budget for the public defender's department is roughly $500,000 per year.