The felony charges filed against former Inyo County Public Defender Gerard Harvey have been dismissed.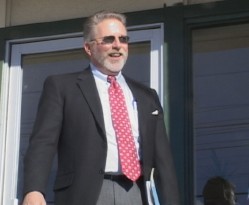 In a press release, Harveys defense attorney, Tom Hardy, said that the Kern County Deputy District Attorney handling the case moved to dismiss all charges pending against Harvey.
The case had been set to go to trial on Monday, but at the final pre-trial conference on Thursday, Hardy reports that all charges were dropped.
In March of 2009, the Inyo DAs office charged Harvey with witness intimidation, criminal threats, and threatening a witness who provided assistance to law enforcement. These charges came on the heels of earlier charges that Harvey was under the influence of narcotics in court. One under the influence charge was dismissed, while Harvey had to enter rehab. The second charge is set to be dismissed if Harvey successfully completes the rehab program.
The situation took a political turn when Gerard Harvey announced that he was running for District Attorney against the current DA, Art Maillet.
The defense had pushed to have the DAs office recused from the prosecution, but that motion was denied in November. After Harvey announced that he would run for DA, Maillet decided to recuse his office rather than prosecute a political opponent. The case was given to Kern County to prosecute.
Hardy said "Back in November, we argued that the Attorney Generals office should handle this matter, and the Inyo County DA vigorously opposed that. While I understand the courts decision at that time that a strictly legal conflict of interest did not exist, this development supports our overall position that local prosecutors were not handling this matter objectively.
The charges were dismissed but the troubles for Harvey are not necessarily over. Ed Jagels, the District Attorney for Kern County explained that his office was provided with a large amount of new material, and the case was referred to the Inyo Sheriffs Department for further investigation. Jagels says that his office will wait for the results of the investigation to determine, what we will do on the matter.
As for why the Attorney General did not handle the prosecution, Jagels explained that with budget issues, the AG is being more stringent in their decisions to take on conflict cases to the point that it has become, relatively routine for county District Attorneys to take on each others cases. Jagels says that Tulare County is currently handling five cases for Kern County. Jagels was, happy to help out."