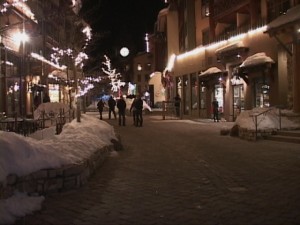 More changes in Mammoth Lakes in the news. An existing division of Mammoth Mountain Ski Area will now manage the Neighborhood Company at the Village at Mammoth. The Neighborhood Company manages the common areas of the Westin and Village condos. Officials said this is a move to save money and improve efficiencies.
John Vereuck, president of the Neighborhood Company board or Community Association Board, as it is called, said this new move will save money and allow for more investment in events and infrastructure. He said the Village Lodge Management Team, an existing division of Mammoth Mountain, will step in.
In a letter to Village homeowners and tenants, Vereuck explained the changes and said that the Board reviewed three management proposals and accepted a seven-month, interim proposal from Mammoth Mountain's division for what is described as "a fee that is a significantly reduced cost to the previous management structure." The Board said further changes could be made in the future.
The Community Association Board voted to eliminate the executive director position at the Neighborhood Company as part of the new plan. The Board thanked director Dion Agee for his efforts and hard work.
The letter says the new management team will focus on oversight of staff's daily responsibilities which include events, animation, snow and trash removal, basic maintenance projects, cleaning, hiring, landscaping and basic security.
John Vereuck said that timing wise, this new move responds to the economy we're in. He said what we have now is the new normal. Said Vereuck, "We're not going back to 2005. We have to work with our resources – how to manage them and how to find the best way to work."   He is optimistic about the future in the face of all the changes – the Ski Area, Town government and the Village.  Vereuck believes the Town needs to do more public-private ventures.  "We need to do things together to make the economy work.  We're poised for a class resort if we do it right."