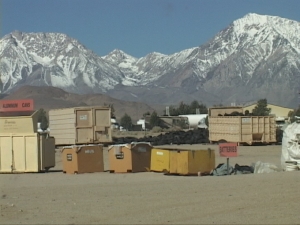 While Inyo people try to keep the main needs of life going – jobs, food, cars, houses – State government laws and local decisions seem to mean less service at a higher cost. Right now, the Inyo Supervisors have plans to once more make changes at County landfills.
Deputy County Administrator Pam Hennarty said the CalRecycle Division of State government notified Inyo that the County is under review for not enough "diversion of waste", which means recycling. In a year's review, Inyo has to make improvement or eventually face big fines like $10,000 per day, Hennarty said.
In response to the State review, Hennarty said the County wants to separate green waste and hopes the County's two haulers will offer the option of a green waste can. Hennarty said the Board of Supervisors did approve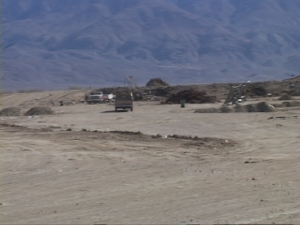 requiring haulers to offer a smaller can for less money that would mean reduced waste to landfills.
The County has raised rates for bringing cut up tires to the dump. Gate fees that used to include construction materials and yard waste in one truck will go up from $14 per yard to $50. If the materials are separated, there will be no cost increase. Hennarty said the County wants customers to drive to the various locations at the landfill and separate types of waste. If they don't, the rates will be higher.
The $5 gate fees used to cover 3 cubic yards of trash. Under new regulations the fee will cover 1 cubic yard or 5 32-gallon cans compared to the previous 15 32-gallon cans.
Gatekeepers also ask where trash came from and will start to go to actual trash piles to see if customers are disposing of materials properly. Under the Supervisors' proposals, dumps will remain open fewer days. Bishop would go from 7 to 5 days per week. Big Pine and Independence would be reduced to 2 days per week; Lone Pine – 3 days per week, and the County would eliminate the roll-off bin for Olancha and Keeler. Hennarty said this schedule would save the County more than $250,000 per year.
While other County services do not run on a cost/ income basis, the County wants to run the dumps this way. Hennarty also said officials looked at the smaller dumps as 15 miles from another dump which would allow use of a second landfill if needed. Hennarty believes people in the towns "will adapt" to the changes which will take effect around May 1st. The County will hold more information meetings before then.