By Deb Murphy
The old mining town of Cerro Gordo, seven miles east of Keeler, closed escrow last Friday, passing to new owners and eventually a new life as a "lively hospitality destination," according to a write-up in The Real Deal real estate website.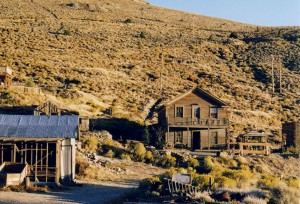 Jake Rasmussen of Bishop Real Estate closed the deal above the original asking price of $925,000. The new owners are Brent Underwood, described as a hospitality entrepreneur and best-selling author, and public relations executive Jon Bier.
Rasmussen put together a nation-wide marketing campaign including a video that attracted a quarter of a million views, to find a buyer for the 300-acre property that includes all the amenities of an 1860 mining town.
For the time being, the tours of the site will continue as is. According to the Real Deal, the long-term plan includes renovation while maintaining much of the existing structures. The new owners expect the site "will be used for weekend getaways, festivals, photoshoots and writing retreats."
The new owners' commitment to the history of the site was a factor in the sellers' decision faced with multiple offers.
Underwood, Bier and a handful of minority investors will be getting 80 years of mining history in the Inyos, along with 22 buildings that range from chapel to saloon.
In 1865, Pablo Flores set up a mining and smelting operation near the Buena Vista Peak. The quality of the silver ore drew Victor Beaudry from Independence to the mine. He set up a store and started acquiring mining claims in lieu of unpaid debt. He ended up owning some of the richest mines in the area and interest in the Union mine.
By 1869, the fat hill was the largest producer of silver and lead in California, all of which was hauled to Los Angeles. The Los Angeles News attributed the success of the city to the steady stream of silver bullion that ran through it.
The boom lasted until early 1877 when the mines seemed to have played out, prices dropped and a fire ripped through the mining buildings and into the Union shaft.
A mining revival in the Panamints drew new exploration in 1905. Zinc replaced silver as the ore of choice in 1907 and five years later, Cerro Gordo was the largest producer of zinc carbonates in the United States.
From the early days through 1938, the gross production at the site hit $17 million.
One hundred fifty three years after Flores started mining, Cerro Gordo is ready for its second revival.