A week ago at the Cerro Coso College dorms in Mammoth, police responded to a report of a man out of control and in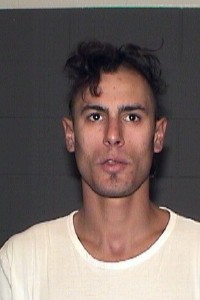 possession of several knives.
Officers rushed to the dorms and said they found an intoxicated man trying to get into a room. They said he retreated to his own room where they found blood on him and "almost every surface in the room."
Police said they had to resort to pepper spraying the suspect, 23-year-old Robert Isaac Monroy. He was arraigned last Friday via video conferencing with Monroy in Bridgeport and the court in Mammoth Lakes.
Deputy District Attorney Jeremy Ibrahim said that Judge Stan Eller conducted the arraignment, denied release of Monroy and set bail at $20,000. Monroy was held on four charges – felony possession of a deadly weapon which was described as a metal club that conceals a blade, felony vandalism of walls and carpet, misdemeanor brandishing of a knife and misdemeanor battery for throwing a stool at a student.
Monroy says he is a student, majoring in business. His preliminary hearing will take place September 14th in Bridgeport.