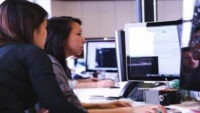 Cerro Coso Community College will be closed for winter recess from Monday, December 20, 2021 through Sunday, January 2, 2022.
Online registration will be available 7 days a week, 24 hours a day through the College website at www.cerrocoso.edu. Try this easy and convenient way to register for classes. The spring schedule of classes is also available online.
Business will resume at all college locations on Monday, January 3, 2022 and staff will be available to assist in person, via email, phone, and scheduled Zoom sessions.
Register now. Pay later.  Spring semester classes at the college officially start on January 18, 2022. 
Vaccination and/or approved exemption must be uploaded to the registration system before registering in on-campus classes.  If the information is not in the system, an error message will be received and it will not allow you to register.  Remove on-campus classes from your cart and proceed to register for any online classes you wish to take.   
Vaccination and exemption information is available on the website at www.cerrocoso.edu.
New this spring, Cerro Coso is accepting new applications to the Cerro Coso Promise Scholarship contact Financial Aid for more information at [email protected].
Cerro Coso Community College.  Your Hometown College.