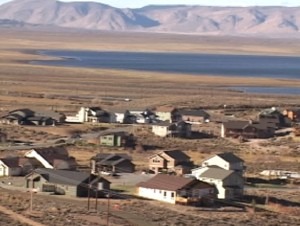 The now-famous advertising line about cell service – "Can you hear me now?" has never had any meaning in the community of Crowley because there has never been cell service there. That could change any day now.
A company called Distant Towers did go through Mono County Planning and managed to get a lease from the Los Angeles Department of Water and Power to build a cell tower and base next to Crowley. Robert MacLachlan of that company said he has nothing to do with the cell service itself. Verizon will handle that part. He said the tower does have electricity and an antenna and should be on the air any day.
Hiedi Flato of Verizon Public Relations told Sierra Wave Media that cell phone service for Crowley will go on the air as soon as "the landline provider installs the backhaul connection this week." She said that while this should happen soon, there is no specific date right now.
Flato said that cell sites need to connect to Verizon's "mobile switching center in order to complete voice and data transfer." She said Verizon wireless worked with various landline providers to handle the interconnection. Flato said there have been some delays on the landline side. She invited us to check back before January 1st for an update.