Irwin M. Heit
1925-2015
Born March 4, 1925 to Nathan Heit and Esther Unger Heit in Manhattan, New York City, NY he passed away Thursday June 25, 2015 peacefully with members of his family by his side.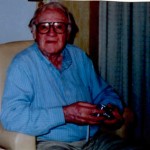 Irwin was a WWII veteran serving in Shanghai, Mainland China where he met and married Ellie in November of 1948.
Upon returning home, he completed 10 years of honorable service as a Captain in the U.S. Army Signal Corp. He and his family moved to Northern California where he earned his degree in Electronic Engineering from San Jose State College. He then spent 31 years as a sales representative in the Aerospace and U. S. Defense Industry.
In 1991, Irwin and Ellie retired to the Owens Valley to be closer to their son, Nathan and his young family.
It was at that time that Irwin began volunteering, first as a Tax Aide through the AARP serving the senior community, and then as a HICAP representative helping to negotiate the Medicare, and Medi-Cal programs. He became a very active member of the Women's League of Voters until it dissolved.
He also became active in the Owens Valley Democratic Club and the ICDCC holding numerous executive positions in both organizations. In 2008 Irwin was awarded the prestigious Democratic Ideals Award at the Annual Charles Brown Breakfast.
He was preceded in death by his eldest son, Barry T. Heit in 1985.
He is survived by his wife of 67 years, Ellie Heit;, his youngest son, Nat Heit and daughter-in-law Leslie Heit; grandchildren, Michael Heit and Elisabeth Heit ; daughter, Bobbi Heit Ashurst; sister, Roselyn Heit Leiberman; niece, Nancy Barron and family; nephew, Jay Leiberman and family;  Bob and Mary Braitman and their daughter Leah Andersson.
A Celebration of Life for Irwin Heit Friday July 10  from 1pm to 3 pm at the Highlands Community Adult Park Clubhouse for Family and Friends.
For those wishing to do so, donations would be welcomed to the American Caner Society or American Heart Association.