August Hess (October 25, 1914 – October 20, 2018)
The time has sadly come to say goodbye to August Hess,
Avid skier, baseball player, musician, golfer, historian, friend, family man and who was one of the best.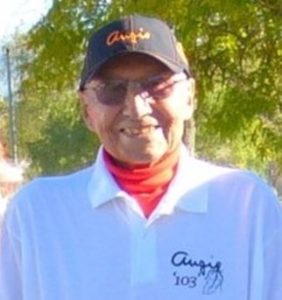 Augie was born, October 25th, 1914, at Mono Mills,
He walked, hunted, skied and loved the surrounding snowcapped mountains and hills.
Living 104 years, he had many adventures, travels and history he shared,
Of places, friends and his loving family that cared.
Of his parents, Gus and Lula, who came together because of the Bodie mining,
And of being a young lad raised on the banks of Rush Creek and the new town of Lee Vining,
His education started in a one room school on the west side of Mono Lake,
Then to Lee Vining, Bishop, Seattle and onto Pasadena College for goodness sake.
As a young boy in Lee Vining he traveled with the local team,
He learned how to place his fingers just so, on that baseball seam.
Baseball became his passion throughout the years,
Oh, how he loved all the glory and cheers!
Pitching for the town team, college and trying out for the pros,
Entertaining the troops in WWII, oh how he could throw!
Music was another love, playing his trumpet, in college bands and keeping the beat…
And playing with his family in the Hess Orchestra, for everyone who heard them, it was such a treat.
But returning to Lee Vining after the war, he was swept away…
By a new love, Harriett Rae.
With Harriett's children, Rachel and Delbert, Augie had a ready-made family,
And they soon added his "girls" Vineca and Heidi, very happily…
Being successful business owners and with an active family of four,
You could say life was an adventure and sometimes a chore!
But they found time to travel and play,
Belonging to many organizations and adding friends along the way.
Augie was proud of his family and loved his wife, but another passion was awakened and made him stand tall…
GOLF, that darn little white ball!
You could find him by Mono Lake, practicing and preparing for that hole-in-one!
Soon he was traveling to Bishop, through snow, wind and the blazing sun.
When Harriett passed, he realized that Bishop was the place for his new home,
So he moved for the golfing and the sun that shone.
Augie wrote a book from all his notes and letters,  "The Kid from Mono Mills,"
Which told of Mono Basin history, his life, adventures and thrills.
On October 20th, 2018, at home with family, he answered the call,
And was peacefully taken to heaven on a beautiful day in the Fall!
Survived by his two daughters Vineca and Heidi, grandchildren, great grandchildren,
great-great grandchildren, cousins, nieces and nephews,
A void in all our lives and hearts – Augie will be missed by more than a few!
Augie lived a good, full life, was loved by many and thankful for that…so don't be sad and cry,
He would say, "Tee it high and let it fly"!
A Celebration of Life will be held on Saturday, November 17th, 2:00 pm at the Bishop Country Club,
Appetizers and drinks will be served, so come and join us for drinks and the excellent grub!
In lieu of flowers, we would like to donate to the Junior Golf Club.  Please contact Steve Shibley at Bishop Country Club (760) 873-5828.  Thank you.