By Deb Murphy
The Alabama Hills has been a National Scenic Area since February of this year when the Natural Resources Management Act passed both Houses of Congress. But, Saturday, that designation became really official with a celebration at the Lone Pine Film Festival and the unveiling of a sign in the Hills.
Most of the Alabama Hills Stewardship Group, were there, as was Rep. Paul Cook, three County Supervisors, local residents and those of us who wished we lived in Lone Pine so we could enjoy the Hills on a more regular basis.
It took three Eastern Sierra Transit buses to get the group to the site for the sign unveiling and the speeches. 
It took nearly 11 years to, first, arrive at an appropriate designation to protect the area, then get the designation on legislation and pushed through both Houses. Cook was instrumental in that effort.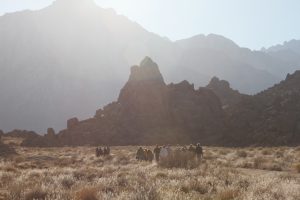 Former resident Kevin Mazzu led the effort that included a series of workshops with representation from all the user groups—from bird watchers to off-road groups to horse people. In 2010, Mike Prather wrote the legislation, most of which made it through to the final bill. 
There were fits and starts during the process. In 2016 and 2018, legislation including the designation made it through the House of Representatives but never made it to the Senate.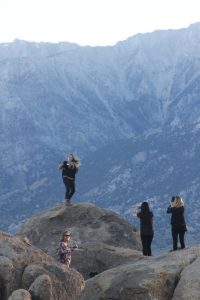 Now the real work starts—developing a management plan that protects what is so special about the Hills.