ICHHS news release
On September 6, 2019, the Centers for Disease Control and Prevention (CDC) announced that there has been a significant increase in the number of possible cases of severe respiratory illnesses among people who vaped nicotine or cannabis-related products, with reports doubling from 215 possible cases in August to 450 possible cases in 33 states by early September.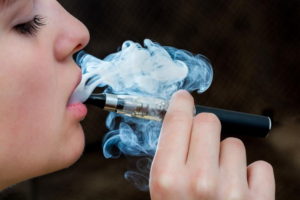 Three people have died — in Illinois, Oregon and Indiana — and a fourth death is under investigation, according to the CDC. 
In California, at least 44 cases of Vaping Associated Pulmonary Injury (VAPI) in 14 counties across the state have been reported.  According to the California Department of Public Health (CDPH), most patients in California report vaping cannabis products such as THC or CBD, and some report vaping nicotine-containing liquids as well. Some patients have reported using vaping products that they purchased from unlicensed, unregulated entities.
No suspected cases of severe respiratory illness associated with vaping have been reported so far in Inyo County.
CDPH warns that vaping is the increasingly popular practice of inhaling vapor from an e-cigarette device, which works by heating a liquid that can contain nicotine, marijuana, or other drugs. The long-term health impacts of vaping are unknown. The liquids used in e-cigarettes are largely unregulated, and they can contain toxic chemicals that can cause lung damage."  
According to CDPH, patients who are experiencing VAPI typically present to the hospital with cough, difficulty breathing, fever, and sometimes vomiting and diarrhea. In many cases, the initial diagnosis was presumed to be infectious, but no evidence of infection or other process to explain the pulmonary disease was found. All cases in California have been hospitalized, with most requiring respiratory support with supplemental oxygen, high-flow oxygen, or bi-level positive airway pressure. At least ten patients had respiratory failure requiring mechanical ventilation.
The CDC has released the following recommendations for the public as of August 30, 2019:
While this investigation is ongoing, if you are concerned about these specific health risks, consider refraining from using e-cigarette products.

Regardless of the ongoing investigation, anyone who uses e-cigarette products should not buy these products off the street (e.g., e-cigarette products with THC, other cannabinoids) and should not modify e-cigarette products or add any substances to these products that are not intended by the manufacturer.

Regardless of the ongoing investigation, e-cigarette products should not be used by youth, young adults, pregnant women, as well as adults who do not currently use tobacco products. If you use e-cigarette products, monitor yourself for symptoms (e.g., cough, shortness of breath, chest pain) and promptly seek medical attention if you have concerns about your health. The CDC and FDA will continue to advise and alert the public as more information becomes available.
For current information and updates regarding the outbreak of lung illness associated with using e-cigarette products, visit https://www.cdc.gov/tobacco/basic_information/e-cigarettes/severe-lung-disease.html
References
Centers for Disease Control. 2019. Severe Pulmonary Disease Associated with Using E-Cigarette Products. Retrieved from https://emergency.cdc.gov/han/han00421.asp
California Department of Public Health. 2019. Vaping-Associated Pulmonary Injury.