Four months ago in Big Pine, some twenty families and individuals lost everything they had – homes, possessions, pets – when the Center Fire swept down from the foothills of the Sierra and destroyed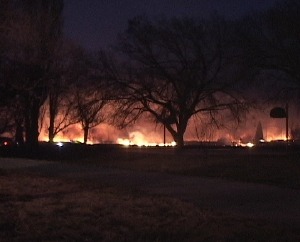 homes in the west part of Big Pine.  Today, many of those victims think it's past time to confirm the official cause of that devastating fire.
We called CalFire, the agency in charge of the fire investigation, and learned that Captain Jack Markle conducted the inquiry into the fire.  CalFire Public Information Officer, Bill Peters, said Captain Markle was unavailable.  However, Peters then spoke with Markle and reported to Sierra Wave that as of July first, the Inyo District Attorney had not finished reviewing the case for possible prosecution.
Peters said Captain Markle would not be able to release any information until approval from the DA is received.  Peters said he could not even tell us when the report went to the DA from CalFire.  We placed a call to the District Attorney's Office.  The woman who answered the phone said DA Art Maillet was on vacation.  We asked to leave a message for another DA lawyer, Will Richmond, about the Big Pine Fire.  He did not return our calls.
We pressed CalFire's Bill Peters for at least the official cause of the fire as public information.  He declined.  In March, after the fire, Inyo County Superintendent of Schools, Terry McAteer said that the fire did start at the Bernasconi Center above Big Pine.
McAteer explained that an Alcoholics Anonymous group, the Carson Valley Men's Group, came to stay at the center the week of the fire.  He said the AA group brought a metal fire pit to start a warming fire.  McAteer said at that point there was no wind and then the group thought their fire was out.  The afternoon of the Center Fire, the wind came up and apparently re-ignited that blaze.  Two people tried to put it out but the fire took off down the hill toward Big Pine.
Until CalFire or the DA responds, it is unknown if CalFire confirmed the School Superintendent's report as the official cause of the Center Fire and that this is what the District Attorney is reviewing for possible charges.  Meanwhile, fire survivors try to rebuild their lives and hop to know for sure what caused their loss.