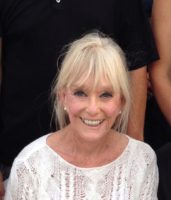 Catherine Hensler left this earth on January 09, 2022 to join her maker in the heavenly realms. Catherine was born July 30, 1934 in Arkansas and later moved to California where she met and married the love of her life, Kenneth Hensler on August 5, 1952. Together they have five children: Mike Hensler, Lyndee Richmond, Mark Hensler, Kathleen Wolf, and Stephen Hensler. After nearly 70 years of marriage Kenny stood by her side as Catherine took her last breath.
Catherine lived a legendary life filled with adventure, laughter, love, and a large tightly knit family. She spent many years skiing with her children before switching to snowboarding with her grandchildren. Later in life she could often be spotted joyfully making her way down the slopes with Kenny or sitting inside the lodge with one of her many children and their families.
Catherine was a talented artist who enjoyed doll making, painting, and sketching. She had an unquenchable thirst for life and a zeal for sharing every moment of it with those she loved most. She had a passion for gardening and planted a rose for each grandchild born into her family.
Catherine spent many years of her life in Mammoth Lakes where she and Kenny raised their children. They later moved to Tehachapi, California where their grandchildren were raised. As the grandchildren left home Catherine and Kenny built their dream home in Bishop where she spent the last ten years of her life.
The extensive family left behind by Catherine Ivy Hensler will carry on the legacy of strength, devotion, and love that she so easily taught to each one of her five children, twenty-three grandchildren, and fifty-six great grandchildren.