First an animal neglect controversy, now disease among cats at the Inyo Animal Shelter. Animal Control Officer Tim Proffitt confirmed that a serious disease hit cats and shut down adoptions.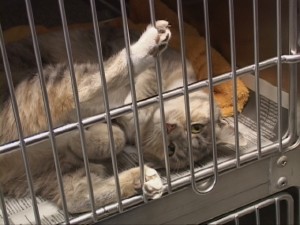 Proffitt said that the illness is isolated to what is known as the cat room. Most of the 47 cats seized in the earlier animal neglect case are housed in another part of the shelter. Proffitt said shelter workers are doing common sense treatment – vaccinating for known diseases and hydrating the cats who are ill.
The Animal Control Officer said it appears the animals are getting over the illness. "I hope we have seen the end of it," he said. Proffitt did confirm Bishop Veterinary Clinic is handling lab tests to nail down the illness.
Proffitt said that standard operating procedures requires a hold on cat adoptions as a result of the disease. Officials hope to lift that hold soon.