Press release
The all-star cast for the upcoming production of 'Into the Woods' is hard at work rehearsing and preparing to thrill audiences as they lead them into a web of fairytales that is enchanting, intriguing, fun and touching all at the same time.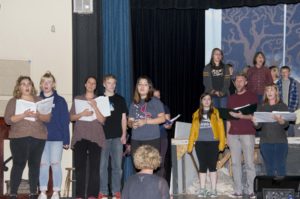 Your friends, neighbors and co-workers in the cast are working under the inspired vision and direction of veteran Directors Martha Reynolds and Dave Hardin while the orchestra is hard at work practicing under the direction of conductor Mark Hatter.
Most people are familiar with the tales of beanstalk climbing Jack (played by Jordan Kost), Little Red Riding Hood (played by Jennifer Velaquez), Rapunzel (played by Rhianna Carter) and Cinderella (played by Laura Whiteside)…..….but who are the baker and the baker's wife and where did they come from?   The characters of the baker (played by Jesse Steele) and his wife (played by Amy Hemler) were originated by James Lapine when he wrote the book 'Into the Woods'.  They are at the very heart of this entanglement of tales as they venture into the woods attempting to reverse a curse placed upon the baker's wife many years earlier by an indomitable witch (played by Yvonne Mills.)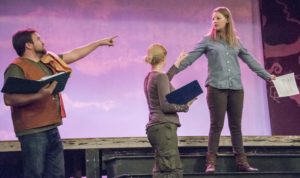 The baker and his wife go through trials and tribulations looking for four unusual items: a cow as white as milk, a cape as red as blood, hair as yellow as corn, and a slipper as pure as gold.  Well you can see where this is going.  As they venture into the forest in their search, one by one they encounter iconic fairytale characters each in possession of one of the items they desperately needed to reverse the curse.  At times purely zany, at others poignant, audiences will be thrilled with the orchestra's music and excellently performed songs and are sure to be fully entranced as they follow the cast into the woods.
Tickets are now on sale for 'Into the Woods' which will run the first three weekends of March at the Bishop High School Theater. Brown Paper Tickets is handling ticket sales.  They can be reached at https://www.brownpapertickets.com/event/3234639 or 24/7 over the phone at 1-800-838-3006. Tickets can also be purchased locally in Bishop at the Chamber of Commerce, 690 N. Main St.. Mon. – Fri. 10-5 and Saturday 10-4, General Admission Tickets only; and Inyo Council for the Arts, 137 S. Main St., Mondays, Wednesdays, and Fridays from 11-2 for General Admission and Premium Reserved Seats.
Playhouse 395's lighthearted and fun take on 'Into the Woods' will be enjoyed by people of all ages.  It does contain some adult themes and has been rated by Musical Theater International as PG13.
All of the cast and crew, orchestra, directors and producers of 'Into the Woods' are volunteers who are putting in an incredible number of hours preparing to entertain their audiences.
The producers of the show are looking for more volunteers for the three weekends of performances in March.  Volunteers are needed to help with several things including ushering and selling refreshments during intermission.  If you are interested in volunteering, please call Karen at 760-873-7644 or 760-937-1786.
For any questions please call Playhouse 395 at 760-920-9100 or visit the Playhouse website at www.playhouse395.com.