A land dispute on the Bishop Indian Reservation produced a protest Monday and claims that the Tribal Council has taken over land to expand the Casino and build a motel.
Rick Napoles said his family holds a land assignment where the Tribe wants to take over. He said his aunt, Janice Geraldine Pasqua holds Block 3, lots 6, and 7. Napoles said that the Tribal Council has denied this assignment and "want to claim it for Casino expansion," he said.
Napoles also said that last July, tribal members voted down the idea of expanding the Casino. Then in March of this year, he said, the Tribal Council "decided to take charge of our land assignment." He said the Council sent a letter to his brothers ordering livestock off the property for the building of a fence.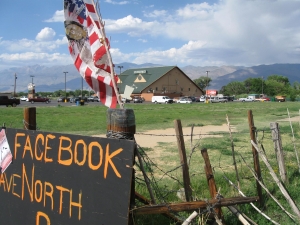 Napoles said that's why his family carried out a protest Monday. He also said the Tribal Police Officer handed his family members citations for trespass. They have a court date June 17th. Napoles said his family has "a preponderance of evidence on the family land assignment." He said this court appearance will give the family a chance to show that the land is theirs and there was no trespass. He added that the Owens Valley Tribal Board passed resolution #127 granting his aunt the three plots of land.
We called or emailed all of the five Bishop Tribal Council members for their response. We did speak with Vice Chairman Bill Vega who said, "The Tribal Council needs to prepare a statement. We will convene in a week. We'd like to make a statement. I am out of town right now," he said.
Council member Monty Bengochia was vague in his response. At one point he said the Council "is not trying to take their family land." He referred us to a Tribal newsletter which spoke to this land issue. That article says that the Tribal Council decided 8 years ago to maintain control of the two lots for "economic development purposes." The article says this decision was upheld by the current Tribal Council after consideration of "all facts and documents surrounding this issue." The article says that two descendants of the original tribal designee of the land "agreed to seek land assignments elsewhere on the reservation."
As for whether expansion of the Casino and construction of a motel is imminent, Bengochia said that would be up to the Economic Development Corporation of the Tribe. He claims the plan is under a feasibility study.
The other Council members – Chairman Chad Delgado, Earleen Williams, and Kristopher Hohag – have not yet answered calls or emails.