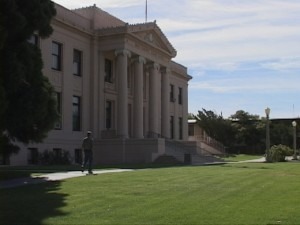 Set for sentencing in Inyo Superior Court today – one man found guilty on eight counts of sex crimes against children and other individuals who face sentences on involuntary manslaughter charges.
Last month a jury found Marvin Titus of Bishop guilty on eight counts of sex crimes involving victims under the age of 14. According to court spokesmen, the jury found Titus guilty of four felonies and four misdemeanors. Titus faces sentencing on charges of sexual battery, child molesting and committing lewd acts on a child by force.
Other cases in court today include Harlan Dewey, Jr., who entered a no-contest plea of felony involuntary manslaughter in the death of Daniel Barlow of Bishop. In a December press release, District Attorney Art Maillet said that a year ago Dewey was involved in a "physical altercation with Daniel Barlow which resulted in the death of Mr. Barlow." Dewey was scheduled to receive a court sentence today.
In yet another case, Jose Figueroa had entered a no-contest plea to gross vehicular manslaughter while intoxicated. This charge stemmed from a single car roll-over accident last August. Figueroa was driving, and his passenger later died from injuries sustained in that accident. The DA's office said Figueroa also admitted to two prior offenses of driving under the influence of alcohol and would be sentenced to ten years in prison.