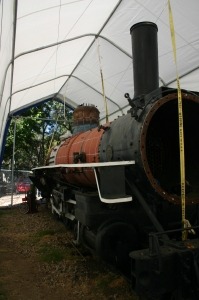 Letter of Appreciation from the Carson and Colorado Railway
The Carson and Colorado Railway (CCR) is excited to announce that through the unbelievable support of our members we were not only able to match the $20,000 offered through a grant by the Narrow Gauge Preservation Foundation for work on the historic Slim Princess locomotive, we nearly DOUBLED it!
In total, we received donations totaling $39,440 from well over 100 members in 11 different states. The donations ranged in size from $10 to $1,000 with an amazing single $20,000 donation from an anonymous local.
The grant and matching donations will help fund the ongoing effort to restore and rehabilitate the Slim Princess Locomotive #18, located in Dehy Park in Independence.
With these funds in hand the boiler repair work has already begun, with the locating and purchasing of materials and the finalization of the repair plan. Our goal is to have most all of the boiler work complete by the end of 2012. The completion of the boiler work will put the total restoration effort for the Slim Princess at just over half-way completed.
The non-profit CCR is currently in the middle of working on a total overhaul of the historic engine. The engine has been placed in a "tent" while the work progresses to protect it from the elements. The Slim Princess put in a century of service, first as an operating train engine that plied the narrow gauge tracks up and down the Owens Valley, then as a focal point of historic Independence from its perch in Dehy Park.
For more information on the CCR, visit the website, www.carsoncolorado.com. The site includes progress update on the work on the Slim Princess, a great assortment of historic train photos, and information on how to make a donation to the non-profit group.
Once again, the CCR would like to THANK YOU for your generous support and participation in returning the Slim Princess #18 to operation.
Board of Directors
Carson and Colorado Railway