Known by many as the oldest living artist in America who still paints and runs a gallery, Carroll Thomas of Big Pine will turn 100 on Saturday, May 1st.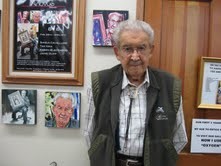 Thomas owns and operates the Thomas Gallery off Highway 395 in Big Pine. Friends said Thomas started his painting career at age nine. He and his family moved to Manitou Springs, Colorado, where he was inspired to paint Pikes Peak and the Garden of the Gods.
After high school, Carroll attended the Minneapolis School of Fine Arts. The Depression hit hard on artists. Carroll traveled out west on boxcars, spent months hiking through Yosemite National Park with his paint kit. After five years of travel, Carroll settled down in Mariposa, California, as half-owner of the Gold Coin Club Bar. He married and had two sons. In World War II, Carroll worked in a model shop at Henry Kaisesr's Shipyard in the Bay area. After the war, he bought a sign company there where he worked and lived for nearly 25 years.
At age 96, he opened the Thomas Gallery on Highway 395 in Big Pine. Friends say his art reflects his life of adventure. In fact, a book called "The Adventures of the Oldest Living Artist" by Meta Cheryl White will comeout soon. Carroll Thomas's 100th birthday party Saturday is open to the public from 10am to 1pm at his gallery.