Press release
Mammoth Lakes, Calif.  – Mammoth Lakes Tourism announced recently that it has hired a Director of Special Events to add to the NGO's dynamic team. Thirteen-year Mammoth Lakes' local, Caroline Casey was chosen for the newly-created position and will work with exisiting event producers to enhance current event offerings in addition to seeking out new events.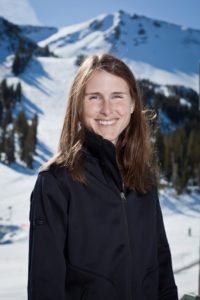 "I am thrilled to join the team at Mammoth Lakes Tourism as Director of Special Events," Casey said. "In the near-term, I look forward to collaborating with the current event producers in Mammoth Lakes. I aim to create a more cohesive coalition of event producers and work to bring on some new and exciting local events with an immediate focus on winter activation."
Casey moved to Mammoth Lakes in April 2005 and has worked at Mammoth Mountain Ski Area for more than 13 years. She has been with the Mountain's events department since 2013 and has planned and executed in excess of 350 events. Highlights include: The Night of Lights, USA Cycling Mountain Bike Nationals, ESPN/Cam Zink "Flip," The Mammoth Gran Fondo, The Kamikaze Bike Games, The Mammoth Wine Weekend, The Mammoth Invitational, Woolly's Saturday Parade, and Cinco de SkiMo.
Additionally, Casey is a member of Eastside Velo and has served as its President for three years. She also spearheaded the recent organization of September as Bike Month in Mammoth Lakes.
"I am excited about the prospects of bringing large-scale events to the area that would drive visitation based solely on a single event," she added. "I am passionate about the Town of Mammoth Lakes and I believe its combination of incredible scenic beauty and recreational opportunities can be showcased to a broader audience through world-class events."
"Adding Caroline to our team opens up all sorts of new opportunities for our community as she assists existing events as well as actively seeking out new events that can help fill our shoulder seasons and need times," commented MLT's Executive Director, John Urdi. "Caroline's years of experience are sure to help Mammoth Lakes continue to grow as an event destination in the future."
Casey starts the new position on Oct. 15, 2018.