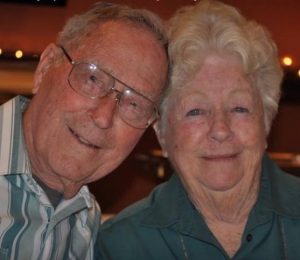 Born 1935 in beautiful Silverton Colorado, Carol moved to Bishop with her parents, Forest "Frosty" and Dora Ellis, where she and her six sisters lived lives full of love, adventure, and shenanigans. 
Carol loved life, nature and critters, music, dancing, sweets, painting, being with family, her kids and grand-kids.  More than anything, she loved her husband and best friend, Holland.  And people loved Carol. Her quick, sharp wit and spicy ripostes charmed anyone with a sense of humor. She was especially dear to children, probably because she never lost the child in herself. She could be silly, playful, and as a mother, grandmother, aunt or great-aunt, made more than one mud-pie, attended numerous teddy bear tea parties and had many 'assistant cooks' helping her with her latest batch of homemade bread or cinnamon rolls. When she focused her attention on a child, they felt they were the most special and important being with a best friend just a little taller than themselves. 
Especially famous for Sunday morning biscuits and gravy, Carol was a fine and generous cook. She made sure no one left for a journey home without a full belly and sandwiches for the road. Resourceful, creative, loving, and formidable, the world will be a little less colorful without her, but thanks to her, those who knew and loved her will always have the gift of seeing a bit of magic in it.
She passed away at her home in Bishop, California on Saturday, December 7th, in the warm and loving care of her family, who already miss her dearly.
She is survived by her husband Holland, their children: James Nichols, Robert Nichols, Barbara Gurley, Jerri Selway, Patti Angélique and Marlene Valdez; more grandchildren and great-grandchildren than can be counted; and her sister Pat Mathieu and many nieces and nephews. 
Funeral Mass will be held at 11 AM Friday, December 13, 2019 at Our Lady of Perpetual Help Catholic Church, 849 Home St, Bishop, CA 93514, followed by graveside services at East Line Cemetery, and a reception at the church hall afterwards.