By Charles James
Last Friday, March 29th, the California Highway Patrol reported that a bicyclist had died at about 10:35 a.m. after being struck along U.S. 6 and Chalfant Loop Road, about 12 miles northeast of Bishop, California. Information on the identity of the bicyclist was withheld pending notification of next of kin, and then later identified as Carne Lowgren of Chalfant.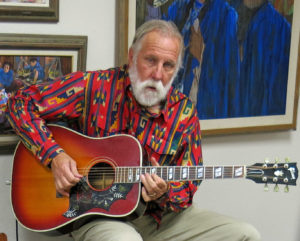 A 76-year-old driver from Hammil Valley, Calif., told CHP that she was traveling on U.S. 6 about 50 mph in her Chevrolet Impala when the bicyclist unexpectantly turned in front of her car. The Impala hit the bicyclist, who died.
Lowgren was a well-known local personality in the Eastern Sierra. He worked as a columnist for The Inyo Register for several years. His "Uncommon Sense" column, which covered a wide-ranging eclectic commentary on social, political and cultural topics, appeared in the Tuesday editions of the Register. An avid outdoorsman, Lowgren also wrote articles that have appeared in Backpacker and Rock & Ice magazines.
The Managing Editor of the Register, Terrance Vestal, said that "We first heard of the accident over the emergency scanner in their Bishop office, but we did not realize that it was our friend and coworker Lowgren whose name was being withheld at the time. When we later found out, we were devasted, as are so many others that knew him. It's heart-breaking and a great loss."
Lowgren was 65 years old. A retired CalTrans employee, he told many of his friends that he was looking forward to his retirement and spending more time with his wife, Deborah, who he loved greatly. He also looked forward to traveling with her and becoming more involved in the community. His friends and coworkers described him as witty, intelligent, a great poet, an observer of humankind, and a talented musician.
According to a CHP officer who had been at the scene, Lowgren was riding his bicycle southbound on Highway 6, towards Bishop. The driver of the car told them that she saw him, and that she slowed and moved over several feet to give him room. She went on to say that Lowgren suddenly turned in front of her car and she could not avoid hitting him.
Based on the reports so far, no arrest has been made as a result of the crash and the driver of the Chevy Impala was not injured.